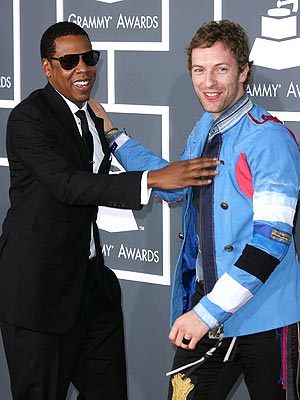 They may seem an unlikely pair, but Chris Martin and Jay-Z are closer than you may think.
"We're from very different backgrounds. But we love the same stuff everyone else loves," Martin, 34, tells online music magazine Pitchfork.
"I love his music, and he's a super cool guy, and he's genuine. I respect his decisions, and we have the same feelings about trying to be true in your art. It just happens that one of us is a nerd and the other is the coolest multi-entrepreneur on the planet."
Martin – whose latest album with Coldplay, Mylo Xyloto, has been getting rave reviews – may not be giving himself enough credit.

The musician and wife Gwyneth Paltrow snagged a coveted invite to Beyoncé and Jay-Z's intimate wedding in 2008, and the two women are also good friends.
"I think more people wonder why he's friends with me. Of course, I want to be friends with Jay-Z – he's cool as f–––," Martin admits. "In Britain, they're like, 'How are you friends with Jay-Z?' It's almost like they're jealous. It's the same with my wife: 'How the f––– did you manage to do that?' And my answer is: 'I have no idea.' "
Aside from having music and superstar wives in common, the two also share a love of football.
"We do play touch football. He's very good at American football – not only does he have all these other talents, but he can throw a perfect spiral," Martin adds. "And then, on the other end, it smacks me in the head. In England, no one teaches you how to throw a spiral, so mine looks like an egg slowly limping through the air."