Exclusive: Heather Graham Gives All the Scoop On Her Gorgeous 'Hangover' Tour Looks
Heather Graham's worldwide chic streak for the Hangover Part III press blitz has had us talking even more than the buzzy film. She's knocked every appearance out of the park in looks ranging from super-sexy to high-fashion — and shown that while her movie may be a comedy, her killer bod is no laughing matter.
Graham, 43, called us from her latest destination, Rio de Janeiro, to dish about how much fun she's had working with her new stylist, Tara Swennen, whom she met on the set of a Maxim shoot. "It's crazy, because the clothes were really just bathing suits, but I loved her personality," Graham tells PEOPLE. "Dressing for red carpets can be very nerve wracking, but I wanted to have fun with this."
And with three stuffed bags jam-packed with gowns, jewels and roughly 20 pairs of shoes ("I feel like Elizabeth Taylor, traveling with all these shoes!" she laughs) she is doing just that, and taking risks she wouldn't have taken before. Below, she chats about five of her favorite looks from her whirlwind week.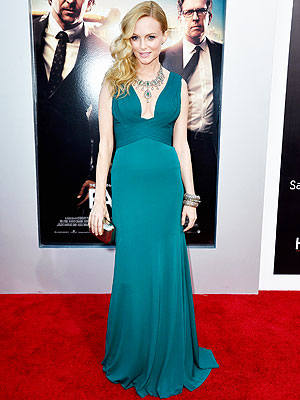 Peter Kramer/AP
L.A. Premiere: Of this Hervé L. Leroux dress, Graham says, "It's funny; when we tried it on, I really liked it, but when it came together with the hair, makeup and necklace, it took it to another level." That necklace, a megawatt Amrapali dazzler, got props from Graham for its "vintage feeling — it could have come from the '30s."
And though she admits it's a little scary to travel with all those jewels in her suitcase, she was able to relax once the whole look came together. "You love it so much when you feel great the whole night," the star says. "It had a classy, classic old movie star vibe and I felt it made a statement."
Adds Swennen, "I loved the sophisticated shape of this gown and the color brought out the beautiful color of her eyes."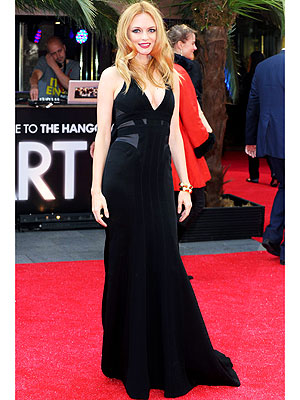 Rex USA
London Premiere: Where her L.A. premiere dress was classic, her Max Azria Atelier dress, with its open back and plunging neckline, was flat-out sexy. "My favorite dress!" she says. "It's flattering and womanly and has a rock-and-roll, rebellious vibe. I felt really good." Hair, makeup and jewelry (by Kara Ross) was kept simple — perhaps all the better, because she was focused on one thing: That train.
"You have to commit to a train," she says, adding that she said to herself, "'I'm a woman, I'm going to enjoy this over-the-top dress with a train and enjoy the night. [But there's always] a little fear that you'll trip on it."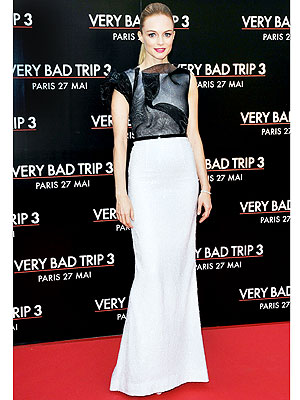 Bauer-Griffin
Paris Premiere: "This was such a couture dress," Graham says of this sleek Talbot Runhof number. "I was nervous. I've never worn anything like it before. But I think of Paris as the home of couture fashion shows and people who wear really glamorous outfits. I thought, 'I'm going to dress up.'" She kept the rest of the look very simple, adding just a ponytail and Jacob & Co. bracelet, so as not to compete with the dramatic neckline.
Says Swennen, "This dress was elegant and so fun! It had a Parisian chic vibe, so that's where we decided it should be worn." Though the dress was obviously a home run, Graham admits she had to be talked into it by. "It's hard to be objective about yourself; I'm really grateful that I have people giving me good advice," Graham shares. "I thought, 'Wow, I love this elegant version of myself that I haven't gotten to express much in the past.'"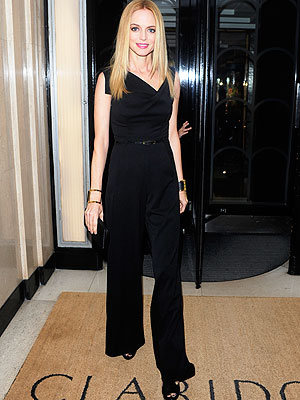 Splash News Online
London TV show: "I'm pretty obsessed with" this Black Halo jumpsuit, Graham says. "It's so cool! I'm so grateful that I'm an actress, I don't know that I'd go out and buy these myself, but I want to be a jumpsuit person." (Swennen says Graham already is: "Her tall frame is perfect for jumpsuits!")
The accessories for this look, worn to visit the Graham Norton Show, also got a huge stamp of approval from Graham: "What I loved were the bracelets [from CC Skye and Juicy] — one was like a weird handcuff — they were amazing! And the [Hervé Léger] shoes were the sickest shoes with crazy buckles. We called them gladiator shoes."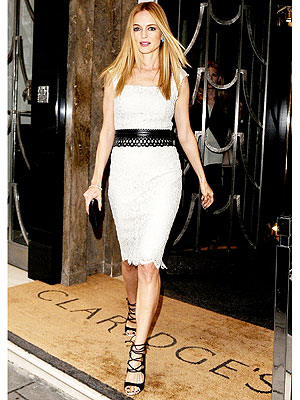 FameFlynet
Leaving her London hotel: And after all those edgy, sexy and glamorous looks, this white lace dress was refreshingly breezy. "I love Dolce & Gabbana dresses. Their clothes are so flattering," Graham tells PEOPLE. "And [Swennen] paired it with this amazing [BCBG] belt, that's so cool — and I'm obsessed with those [Monique Lhuillier] shoes. I have so many great clothes, and the sad thing about fashion is, you get all these great pieces and then you can't wear them again!"
Graham is so crazy about some of the pieces on this tour — plus all the ones still packed that she hasn't worn yet — that she says she'll have to find more excuses to get all dressed up. "This is the most I've ever worked at being fashionable, and it's [exciting] to express all those different sides of yourself," she says. "I need to come up with a few more events to wear these outfits to. It's been so fun!"