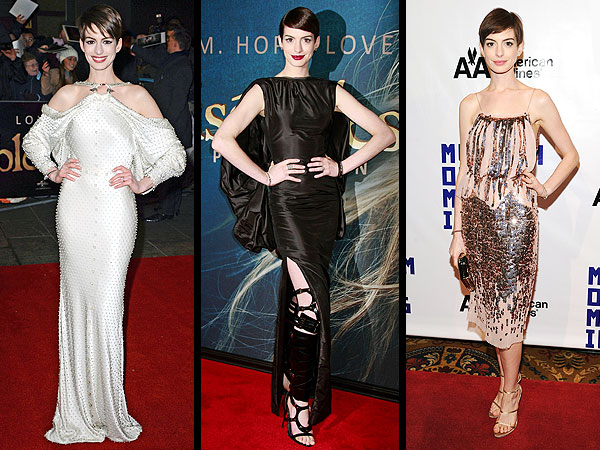 Getty; Rex USA; AP
Anne Hathaway has never been one to shy away from a jaw-dropping gown (remember her seven dresses at the 2011 Oscars?). But recently something has changed with the star's taste: It seems like overnight, she's transformed from an actress who wears pretty, elegant designs into a fierce fashion vixen donning super-daring, straight-off-the-runway looks.
Hathaway first wore an over-the-top creation to the Les Misérables world premiere in London last Wednesday, selecting a white, pearl-beaded Givenchy Haute Couture gown with dramatic bat-like sleeves (left). While some loved it, more hated it: 58 percent of you voted to 'leave' it.
Then, the star went from angelic to straight-up dominatrix at the film's N.Y.C. premiere on Monday, choosing a black taffeta Tom Ford creation with a parachute back and bondage-inspired knee-high vegan leather boots (center). Seventy percent of you called it a 'hot mess,' so needless to say, the vampy look did not resonate with fans.
At an N.Y.C. event on Tuesday, Hathaway wore another look plucked right from the runway: a blush silk chiffon sequined fringe dress by Nina Ricci (right). And while it's definitely the safest of the three dresses, it still makes quite an impact, especially with her short hair and mod, minimal makeup.
Though people are having mixed feelings about Hathaway's bold new sense of style, it's definitely earning the actress a lot of buzz — something that could come in handy when Oscar voters cast their ballots soon. Tell us: Do you prefer Hathaway's newfound style sensibility? Vote below!
Take Our Poll
–Jennifer Cress
PHOTOS: SEE MORE RED CARPET STYLE IN 'LAST NIGHT'S LOOK'