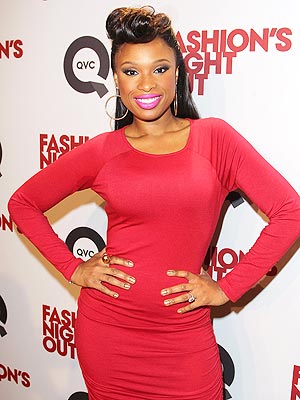 Donald Traill/Invision/AP
Selecting an outfit for Fashion's Night Out was a lot of fun for Jennifer Hudson.
"Some nights I can't even sleep because I'm like, 'What am I going to wear tomorrow?'" she told PEOPLE last week at QVC's Fashion's Night Out Pop-up. "I live in my closet."
That wasn't always the case, but thanks to Hudson's recent (and very public) weight loss, she's obviously dressing differently. "I knew how to be big Jennifer," she admitted. "Who am I now? I'm still figuring that out, but I'm having fun."
Hudson drew on that thought process when designing, considering women of all sizes as she created her clothing line (which she modeled during FNO, left).
"I feel like I've been on both sides of the fence," she said. "In looking at the clothes and coming up with this line I was like, 'Could big Jennifer wear that along with me now?' I wanted to make sure that I represented every girl. I want my size 16 to look just as good as a size six."
Next on Hudson's packed itinerary? Continuing to plan her wedding to longtime fiancé David Otunga. She confessed that while she's had a few bridezilla moments, "It's hard planning a wedding. Everyone's always asking me everything. Ask him something!" Tell us: Have you seen Hudson's line? Have you purchased anything?
–Tiffany Hopkins
SHOP CLOTHING, ACCESSORIES AND MORE CREATED BY STAR DESIGNERS