Prince William and Kate's North American Tour Entourage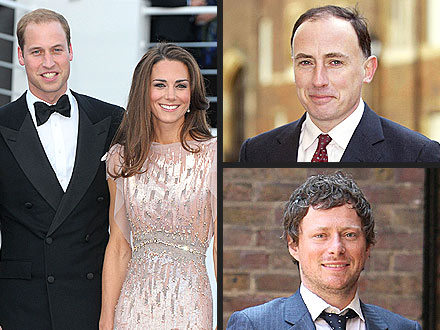 REX, Fiona Hanson/AP, Dominic Lipinski/Landov
What sort of possé will Prince William and Catherine, Duchess of Cambridge bring on their much-anticipated North American tour?
The royal couple will have a lot of help, to be sure, but they've also kept their entourage roster for the July trip lean and mean.
When it comes to who'll be along for the ride, William and Kate will be supported by the following:
• Jamie Lowther-Pinkerton, Private Secretary
The royal newlyweds will be in good hands with Lowther-Pinkerton, 50, a former army officer who was brought to the Palace five years ago by Prince Charles. He's been influential as Princes William and Harry planned their careers in the Armed Forces, and is now private secretary to both William and Kate.
• Chris Kealey, Tour Coordinator
Kealey, an assistant private secretary, will help ensure the couple's packed schedule stays on an even keel.
• James Pryce, Catherine's Hairdresser
Pryce, a 30-something hairdresser at London's Richard Ward Salon, will be on hand to tame Kate's locks. He not only created her classic wedding 'do, but also styled her chestnut mane for the big engagement last November. "She still comes into the salon and sits with everyone else – there is no VIP area," says a Richard Ward spokesperson, who adds, "James has been the Middleton family's hairdresser for seven years now."
• Miguel Head, Press Secretary
Head initially came to attention of the Palace when he worked at the Ministry of Defense. He has plenty of experience traveling with royalty: He headed press relations on William's first overseas tour representing Queen Elizabeth and was alongside Prince Harry in New York during his two polo-playing visits on behalf of his Sentebale charity.
• Sir David Manning
This experienced British diplomat acts as an advisor to the Duke and Duchess and to Prince Harry, coaching them on how to navigate protocol, charity work, official functions and more. Before working for the royal family, Sir David was former Prime Minister Tony Blair's key aide on foreign policy and later acted as Britain's ambassador to America for four years, until 2007.
• Patrick Harrison, The Prince of Wales's Press Secretary
Harrison is an old hand at North American travel, and has toured Canada before with the royals. Accustomed to a slightly larger entourage with Prince Charles and Camilla, he'll be on hand to lend support to the young couple's press team.
• With reporting by SIMON PERRY and MONIQUE JESSEN